Feed My City
Emergency Food Charity operating in Manchester, Salford, and Trafford
A flagship project of registered charity Manchester Sikh Foundation (Charity No: 1191992)
Feed My City
Emergency Food Charity operating in Manchester, Salford, and Trafford
A flagship project of registered charity Manchester Sikh Foundation (Charity No: 1191992)
Feed My City
Emergency Food Charity operating in Manchester, Salford, and Trafford
A flagship project of registered charity Manchester Sikh Foundation (Charity No: 1191992)
Feed My City has been awarded:
We are thrilled to announce that Feed My City has been awarded the King's Award for Voluntary Service. We want to recognise and thank each and every volunteer for everything they do to help Feed My City carry out its essential work. Without the volunteer's kindness, generosity and time, our service would not be possible. So volunteer's, thank you so much. We hope this award can help us expand our service and support more of those in need.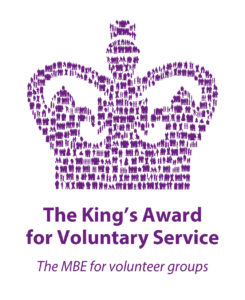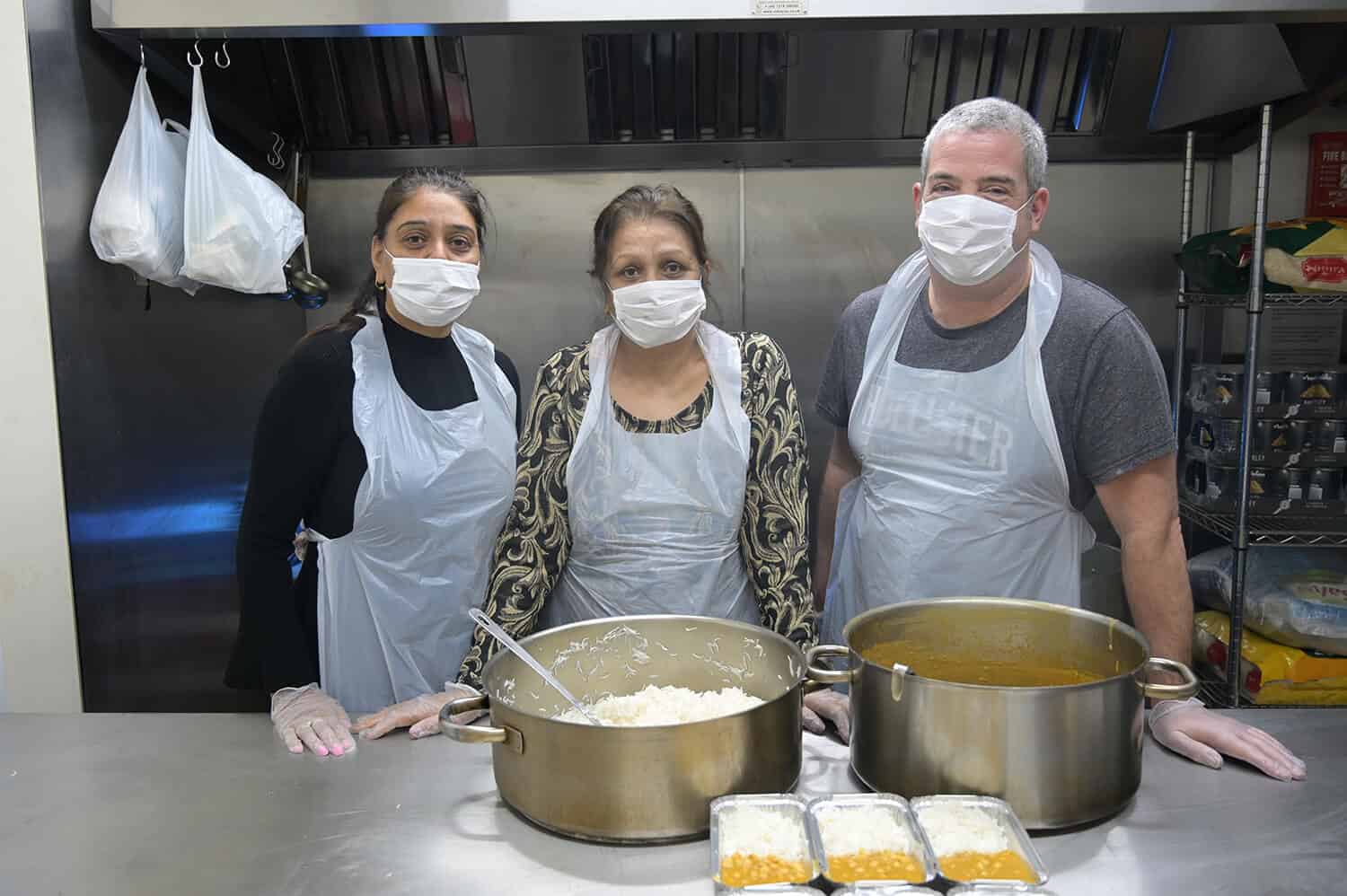 What does FMC do?
We provide simple, vegetarian, nourishing hot food and emergency food parcels to those most in need in Manchester, Salford, Trafford and some other areas of Greater Manchester. We do this without any questions or judgment and our services are free of charge.
We operate 7 days a week, between the hours of 8am and 9pm.
Our services are available to individuals, NHS Care Navigators, Agencies supporting the homeless, Asylum Seekers, Housing Associations, those supporting offenders, Citizens' Advice Bureaux, churches, food banks and many, many more.
How do we do it?
7 days a week, a team of 4 volunteers answer the phone to incoming emergency food requests.
On weekdays, our cooking team cooks and packs the hot meals. The meals are then available for collection and delivery for those unable to collect.
Emergency dry food parcels are available 7 days a week as the items for the dry bags are delivered and packed weekly by volunteers ready for collection and delivery.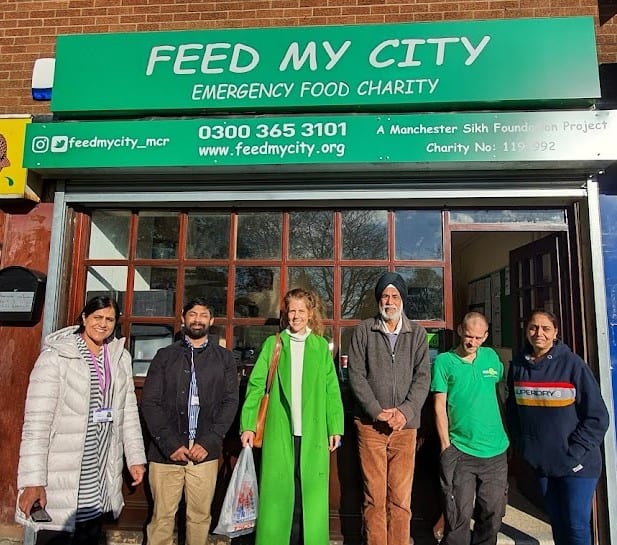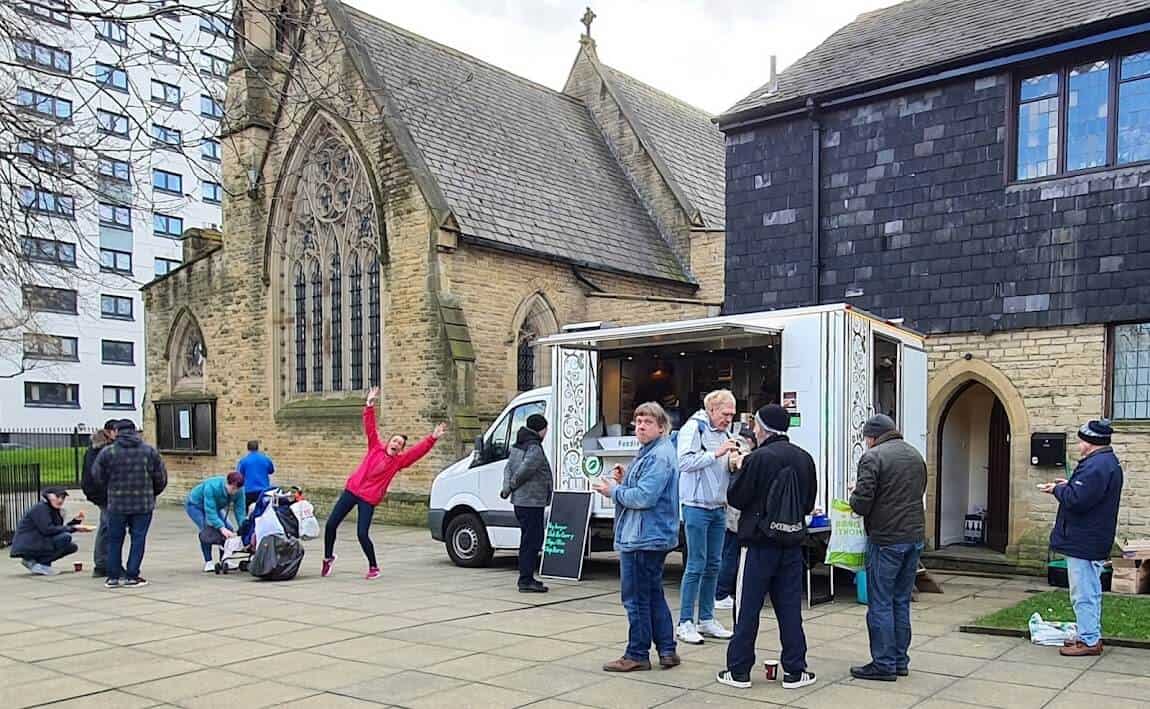 Why do we do it?
We believe everyone has a right to basic food, no matter who they are, where they have come from or whether they have money.
Many of our volunteers have lived experience of food poverty and financial hardship. Therefore, they would like to make a positive contribution to change the lives of people in need.
No-one should experience poverty or hunger, and that is why we offer no judgement and ask no questions about the people we serve.
---
"Thank you so much for your help. It means so much to see people do care and want to help those in need without judgment on them, so thank you so much and god bless you".

– Service user
---
---
"Just a very good service, very polite. Feel cared for."

– Service user
---
---
"Feed My City are absolutely amazing me & my kids faced a huge problem financially & they completely helped us out a lot with a food parcel and hot food we really wouldn't of got through the weekend without them, so reliable too thank you very much!"

– Service user
---
---
"Highly recommend to other people amazing what you do."

– Service user
---
---
"Just a big thanks to you all helping us out in these hard times"

– Service user
---
---
"Thank you for the food, I'm living hand to mouth"

– Service user
---
---
"I've never been in such a predicament and I cannot thank the help of Feed My City enough"

– Service user
---